An imaginative Indian Film Maker with experience in Writing, Directing, Producing Feature  Films, Documentaries,  Ad and Corporate films. He is awarded with State and National Awards. Strong ability to multitask, confidence in leading, planning, executing projects and working well under pressure. Proficient at Managing Creative projects independently.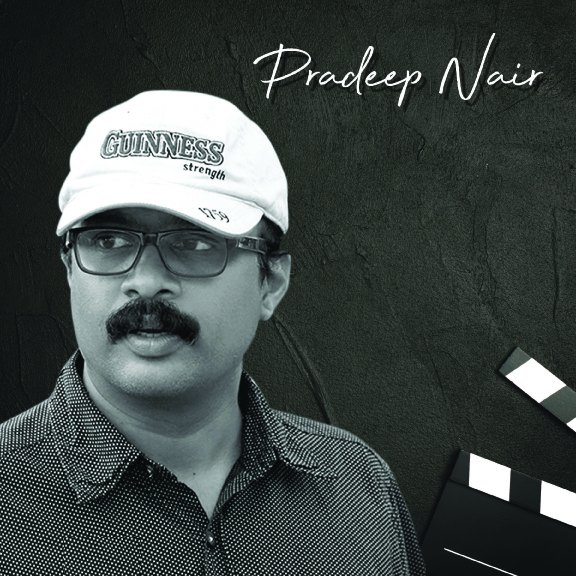 A National award winner for Indian Film Making
Written, Directed and Produced his maiden venture ORIDAM(35 MM/ Cinemascope/ Malayam/ 2004) and the film has won 9 awards including state and national levels. His skills include:
– Strong ability in Multitask and to work under pressure
– Leading, Planning and executing projects
– Manage creative projects independantly
– To work under strong pressure
Oridam(An Adobe) selected to Indian panorama and more than other 15 International Film festivals all over.  Received special Jury Award in direction in 52nd National Film Award of India and 5 awards in direction, Actress, Music, Costume design, Film processing from the 35th Kerala state film awards.
He has been making Documentaries, Ad Films and Corporate Films also. Documentaries on Social
and Environmental Issues have been selected for various International and National Film
Festivals in India.
FILM BUFF Productions is a film making company managed by Pradeep Nair.
Pradeep Nair, the founder of FILM  BUFF PRODUCTIONS has done many prestigious projects.
Many projects on Feature film, Ad films, Corporate films and  Documentaries are completed under the FILM BUFF Production company. Documentaries on social and environmental issues has selected to various National and International Film festivals in India.
ORIDAM had won National and State Awards in 2005. (YEAR OF PRODUCTION – 2004, FORMAT – 35 M M CINEMASCOPE, DURATION – 90 MIN)
Cast and crew of the film Oridam.
WRITER, DIRECTOR – Pradeep Nair
PRODUCER – Jesin Lal James
Cinematography – Manoj Mundayat
MUSIC – Issac Thomas Kottukapally
SOUND MIXING- N Harikumar
COSTUME DESIGN – KUMAR EDAPPAL
PRODUCTION CONTROLLER – Shibu G Susheelan, Shaji Pattikkara
We have great concern about the environment and we take care of it with utmost importance. We are following an eco-friendly approach.
We are following global standards like 3R (Reduce Reuse Recycle) concept to preserve and protect Environment. We make sure our activities for film production doesn't harm the Environment. We take care to reduce the impact that our activities do to the surroundings around us.